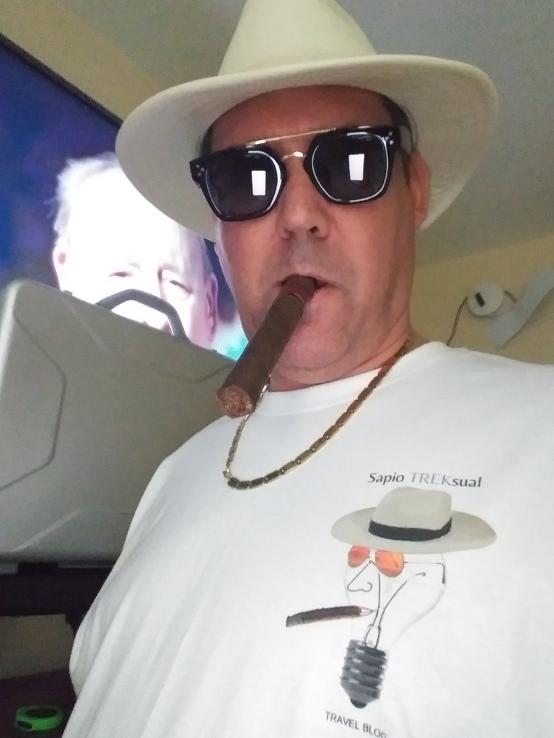 Sapio Treksual - A traveler with a penchant for Panama Hats, Aluminum Briefcases and other fine things...
Meet Sapio TREKsual himself Mr. Jay Shapiro
A Nomad from Birth! 1972 till now...
I don't think anybody in the world has more self confidence than myself. Not even Trump!! Its all because of my interesting background. Originally from Minnesota My dad was the toughest kid in the small town, went on to win the strong man award in the Army and was the toughest guy in his platoon of 500 men. I have the plaque to prove it; its in storage up in Minnesota. My mom was a super model in NYC working for a gangster / horse trainer by the name of Buddy Jacobson. My fair lady modeling agency in NYC. Very pretty mom who changed the course of history by turning down the lead supporting actress role in the movie Tax Driver with Robert D'Niro. My dad had a $24,000. conversion van back in the late 1970's and early 1980's back when conversion vans were more popular than Ferraris and and 24k was alot of money to spend on a vehicle. My mom left modeling and became a traveling hippy and I grew up a nomad, went to 17 schools before dropping out in the 10th grade. I saw and met every celebrity, gangster, hippy, pot smoking hitchiker, bank robber, cocaine importer, and every other character under the sun one could think of when growing up. I lived on board Len Millard's hippy bus in the early 1980s. I spent a year teaching English in Venezuela in the 1990's. I'm a proud Libertarian. I still hold on to my innocent Minnesota naivety and childhood like curiosity for this wonderful world as well as a ton of humility but all in all I'm one weathered and lucky soul!!!
Based on my very unique upbringing, past and experiences I've developed fine tastes but mostly unique tastes. I enjoy adventure travel and cultural travel in places where most American's might be reluctant to go!